Document Actions
FEUP/INESC TEC robotic sailboat wins international competition
The FAST sailboat, created by students and researchers from the Faculty of Engineering of the University of Porto (FEUP) and INESC TEC's Robotics ad Intelligent Systems Unit (ROBIS), has won the title of 'Robotic Sailboats' world champion. The sailboat won first place in the 5th World Robotic Sailing Championship, which took place between 17 and 21 September in Cardiff, Whales. The participation in this event was supported by FEUP, INESC TEC, the AFCEA Educational Foundation (as part of the "Science Teaching Tools" programme), the Clube Naval de Leça and the Escola Naval da Marinha.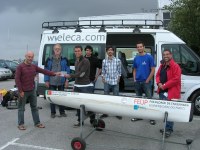 The Portuguese sailboat competed with eight other vessels (from the US, Germany and the UK) and passed with flying colors in the challenges that were presented along each test. Different aspects were tested during the competition, such as endurance, navigation precision and the ability to detect and avoid obstacles. It is important to remember that the FAST already held the vice-champion title of the second edition of the competition organised by FEUP in 2009, off the coast of Matosinhos, Portugal.
The FAST started being built in 2007 as part of an extracurricular project developed by students of the Electrical and Computer Engineering degree at FEUP. More recently, the sailboat was improved within the activity of the Robotics Unit at INESC TEC. The multidisciplinary nature of this project has contributed quite positively to the involvement of students of the Master's Degree in Electrical and Computer Engineering at FEUP who have actively been collaborating to develop and improve the various systems that the sailboat contains.
With the ability to sail completely autonomously and with a reduced power consumption, the sailboat is an unmanned platform capable of going on planned missions, carrying a wide range of sensors, and capable of remaining in the ocean for long periods of time. The recent FEUP/INESC TEC activity has had the support of the Portuguese Navy through its Centre of Naval Research (CINAV) and the Naval Academy, which also have ongoing projects in this area.