Document Actions
Maritime Technology in conference
Entitled "A Sea of Technology", the annual scientific conference of the STRONGMAR project was held on 16 November at the Almeida Garrett Municipal Library. Organised by the Centre for Robotics and Autonomous Systems (CRAS) of INESC TEC, this initiative aimed to increase the visibility of INESC TEC in the field of maritime research, as well as to improve the skills of the personnel involved in this research.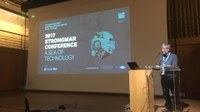 STRONGMAR
With the participation of about 100 researchers, the themes presented were "SMART cables", "Subsea 3D laser imaging", "Underwater mining", "Offshore Oil and Gas Operations", "Subsea Digital Holography" and "Underwater acoustics".
Developed by CRAS, STRONGMAR is a scientific and technological capacitation project related to the sea, which was created thanks to a collaboration between INESC TEC and CINTAL (Centre for Technological Research of the Algarve), whose objective is the scientific, technological and economic capacitation of a national research group, with the collaboration of foreign partners such as the University of Girona, the University of Aberdeen, the Heriot-Watt University and the NATO Science & Technology Organisation.
The second edition of the conference focused on a debate about the sea and associated technologies, ocean engineering and maritime science, bringing together experts in the field and national and international speakers. At the end of conference, emerging opportunities and challenges in the area of ocean technology were discussed.