Document Actions
INESC TEC project in metallic structure soldering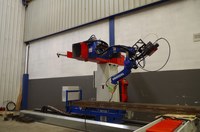 The final demonstration of the CoopWeld - Robotised System for Welding in Structural Steel Fabrication project took place on the 22nd of September at the premises of NORFER, and was attended by the Centre for Robotics in Industry and Intelligent Systems (CRIIS) of INESC TEC.
The solution developed combines offline programming software, advanced perception and augmented reality (projection mapping) in order to obtain a flexible manufacturing cell, especially suited for production in SMEs. In this approach, the robot is responsible for the longest and most repetitive tasks (soldering), thus freeing the operator for the tasks with the most added value (assembly).
Coordinated by Sarkkis Robotics, this demonstrative project aimed to develop a robotised soldering and assembly station that can be installed in metal-mechanic factories, increasing productivity when compared with the traditionally manual manufacturing, in line with the goals of Industry 4.0 and of the strengthening of the metal-mechanic industrial fabric. Intuitive tools for decision making within the scope of soldering were also developed, easing operations and contributing to an increase in productivity and quality.
The CRIIS team that participated in this project comprises researchers Germano Veiga, Luís Rocha, Carlos Costa and Pedro Tavares. Apart from INESC TEC, the project involved the collaboration of the Institute of Welding and Quality and NORFERSTEEL - Construções e Metalomecânica.
The project was funded by NORTE-01-0247-FEDER-006438 (P2020).
More info at http://criis.inesctec.pt/index.php/criis-projects/coopweld/.
The researchers mentioned in this news piece are associated with INESC TEC and UP-FEUP.