Document Actions
INESC TEC researcher with best robotics dissertation in the country
The PhD dissertation by Miguel Pinto, a researcher at INESC TEC's Robotics and Intelligent Systems Unit (ROBIS), was chosen by the Portuguese Robotics Society (SPR) as the best robotics dissertation in the country. Defended on 18 January 2013, the researcher's dissertation was considered the one with the highest technical and scientific quality.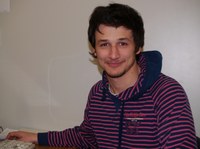 Miguel Pinto
Entitled SLAM for 3D Map Building to be used in a Matching Localization Algorithm, the purpose of the dissertation was to provide a solution for a fundamental problem which was providing a localisation module for a robot – the RobVigil – that uses odometry and observes the surrounding environment with a laser range finder, so as to make it autonomous. The robot is suitable for surveillance purposes and to assure potentially dangerous tasks, which makes it different from other solutions used currently.
Awarded annually by the SPR to the best PhD dissertation on robotics, this prize promotes innovative and accurate research, and promotes the dissemination of quality work.
Miguel Pinto did his PhD in Electrical and Computer Engineering of the University of Porto (FEUP).
See the RobVigil in action here.