Document Actions
INESC TEC sells second robot to Brazil
INESC TEC has just sold another underwater robot to Brazil, following the partnership with the Federal University of Juiz de Fora (UFJF) which in 2011 led to the sale of robot TriMARES to monitor the Lajeado dam and the respective reservoir in that South American country.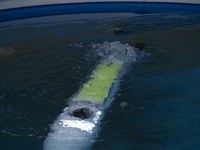 MARES
The partnership with the Brazilian university included the training of human resources, which took researchers from INESC TES's Robotics and Intelligent Systems Unit (ROBIS) to Brazil to provide training services and brought four researchers from that University to the INESC TEC lab last year. While in Portugal, the Brazilian researchers had the opportunity to conduct several experiments with the MARES, an equipment similar to TriMARES but smaller and simpler to operate.
Since the UFJF is gathering a set of new researchers in the area of underwater robotics, their robotics group decided that the MARES would be the ideal platform for the researchers to become more experienced in this area, and that is why they decided to buy this robotic unit. The robot will be used mainly to train researchers in navigation and control. Due to the equipment's modularity, it will also be possible to test the integration of new sensors.
The MARES is an autonomous tool capable of studying the bottom of the ocean and monitoring water quality, without any environmental impact, as it operates with rechargeable batteries. The TriMARES is a more advanced version of the MARES and received an award from the Exame Informática magazine in the Innovation category of the «Best of 2011» Awards.
The ROBIS team responsible for developing the MARES and TriMARES is set up by Nuno Cruz, Aníbal Matos, José Melo, Nuno Abreu, Rui Almeida and Bruno Ferreira.