Document Actions
INESC TEC takes robots to Italy
From 15 to 19 June, members of INESC TEC's Robotics and Intelligent Systems Unit (ROBIS) travelled to NATO's Centre for Maritime Research and Experimentation (CMRE), in La Spezia, Italy, to participate in a set of tests as part of project ICARUS (Integrated Components for Assisted Rescue and Unmanned Search operations).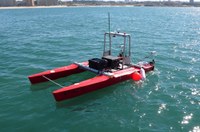 In the exercises, INESC TEC tested the ROAZ, a vessel equipped with a thermal camera to detect people on the surface of the water, as well as a robotised system to carry life rafts. Project ICARUS kicked off in February 2012 and includes 24 European partners.
The goal with this project is to develop robotic tools that will help rescue teams in search and rescue operations. With a duration of four years, the ICARUS addresses two safety components – land and sea –, and INESC TEC is leading the work related to the maritime component as a result of the Institute's experience in aquatic robotics. Examples include submarines MARES and TriMARES (the latter being the winner of the Innovation Award by Exame Informática), or the vessels ROAZ and FAST.
Other than ROBIS (responsible for creating the entire robotic component), the ICARUS also involves INSEC TEC's Information and Computer Graphics Systems Unit (USIG), which will help develop the monitoring and control system, as well as the training and support system.
Two other ICARUS partners participated in these tests, the CMRE and the Italian company Calzoni, which also took an autonomous surface vehicle. The Portuguese Navy is also partner in this project. It is important to highlight that on 4 and 5 July ROBIS participated in the Robotics EXcercise 2013 (REX 2013), promoted by the Portuguese Navy, which served as preparation for the tests in Italy.
The ROBIS member participating in the tests in Italy included Alfredo Martins, André Dias, Aníbal Matos, Bruno Ferreira, Carlos Almeida, Diogo Machado, Duarte Almeida, Eduardo Silva, Hugo Ferreira, José Miguel Almeida and Nuno Cruz.