Document Actions
INESC TEC starts project on mobile robotics
In September, INESC TEC's Robotics and Intelligent Systems Unit (ROBIS) kicked off European project CARLoS – CooperAtive Robot for Large Spaces manufacturing, where the goal is to develop and apply robotics in shipyards. The kick-off meeting took place on 12 and 13 September in Vigo, Spain, and was attended by representatives of all partners.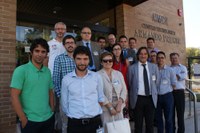 Large semi-structured manufacturing spaces present serious challenges for robot mobility, safety and reliability. This is clearly the case of shipbuilding environments and CARLoS aims at providing an answer to these challenges. As part of the project, a robot will be developed to take on arduous repetitive tasks, more specifically for the fit-out operations of ship cabins, which include stud welding and marking of CAD mode information onto the raw superstructure. Currently, there is no automated solution to perform these tasks.
The CARLoS project will contribute to strengthening the technological level and global market position of European SMEs that develop, supply, and integrate mechatronic, sensing, and electronic technologies for industrial applications. Other than the shipyards, the technology could also be used in civil construction.
Other than INESC TEC, other partners are AIMEN Technology Centre, Robotnik Automation SLL, ATEIN NAVAL, S.A. and Astilleros Jose Valiña, S.A. (all from Spain), Aalborg Universitet (Denmark), C.A.T. Progetti srl (Italy) and DELTAMATIC, S.A. (Portugal). INESC TEC was represented at the kick-off meeting by Germano Veiga, Héber Sobreira and Luís Rocha, researchers at ROBIS. Project CARLoS is financed by the European Commission.
The INESC TEC researchers mentioned in this article are associated with the following partner institutions: INESC Porto and FEUP.
INESC TEC, September 2013