Document Actions
INESC TEC in project to increase the efficiency of forest resources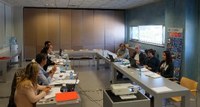 The team composing the BIOTECFOR project met on the 20th of September at the premises of the Automotive Technology Centre of Galicia (CTAG), in Porriño, within the scope of the work of promoting synergies between forestry production and institutions devoted to technological research in automation and new materials. The goal of this technical meeting was specifying the case studies and presenting the current results to the partners. INESC TEC researchers Filipe Neves dos Santos and Ricardo Reis, both from the Centre for Robotics in Industry and Intelligent Systems (CRIIS), attended this meeting.
The BIOTECFOR - Biobusiness and Technology for the efficient valorisation of endogenous forest resources in the North of Portugal and Galicia project aims to increase the efficiency levels in the use of forest resources through the application of Intelligent Robotic Systems in their gathering and processing, as well as through the search for applications for new materials. Ultimately, the project hopes to contribute to the development of bioeconomy and circular economy in the Galicia – North of Portugal cross-border cooperation space.
The partnership is headed by Forestis – Portuguese Forestry Association and includes INESC TEC, AFG - Galicia Forestry Association and CTAG.
BIOTECFOR is an initiative that hopes to increase regional knowledge on the potential of bioeconomy in forestry and to create new socioeconomic dynamics in the forest sector that are relevant to bioeconomy, through the qualification of players in the sector, identification of new biobusinesses, and the development of innovative technologies and tools for the utilisation and valorisation of forest resources.
The project was approved within the scope of the first call of POCTEP 2014-2020, has a total budget of €1,267,417.51, co-financed by FEDER, and has an estimated duration of three years.

The researchers mentioned in this news piece are associated with INESC TEC.