Document Actions
INESC TEC's robotics team wins European Robotics League for the second time
The aerial robotics team of the Centre for Robotics and Autonomous Systems (CRAS) of INESC TEC won, for the second time, the Grand Challenge of the European Robotics League (ERL) Emergency Robots, which took place in Piombino, Italy, between the 15th and the 23rd of September.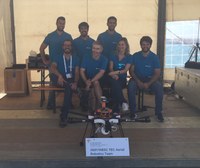 The aerial robotics team of INESC TEC, comprised of Miguel Moreira, Tiago Santos, André Ferreira, Fábio Azevedo and Alexandre Oliveira, not only received multiple prizes in individual challenges (such as robot cooperation), but also won the Grand Challenge final together with the land robotics team TELEROB and the submarine robotics team of the University of Girona.
These results, obtained in one of the biggest robotics competitions worldwide, in which teams from the best European research institutions in the area participate, demonstrate once again the quality of INESC TEC's autonomous robotics research.
The ERL Emergency Robots is the biggest worldwide competition in robotics in search and rescue situations, and the only one simultaneously combining aerial, land and submarine robots. This competition aims to demonstrate abilities and to promote research in the field of robotics applied to real search and rescue situations.
The competition draws inspiration from the Fukushima disaster and involves a set of complex tasks in which aerial, land and submarine robots must cooperate in order to acquire detailed maps of the catastrophe scenario, find victims, provide help, identify leaks and act to minimise damage.
The researchers mentioned in this news piece are associated with INESC TEC.