Document Actions
INESC TEC researchers launches CIM Series in Mathematical Sciences in Springer-Verlag
Alberto Adrego Pinto, researcher at INESC TEC's Laboratory of Artificial Intelligence and Decision Support (LIAAD) and president of the International Centre for Mathematics (CIM), has launched, together with Irene Fonseca, professor at Carnegie Mellon University (CMU), in the United States, the new CIM Series in Mathematical Sciences, published by Springer-Verlag.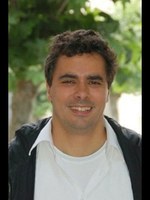 Alberto Adrego Pinto
The first two issues of the series, titled Dynamics, Games and Science and Mathematics of Energy and Climate Change, are composed of selected papers authored by participants of the two International Conferences and Advanced Schools CIM-MPE, organised as part of the initiative sponsored by UNESCO – Mathematics of Planet.
Besides Alberto Pinto, these two first volumes have also been edited by the following three members of CIM's scientific council: Jean-Pierre Bourguignon (IHES, Paris), current president of the European Research Council, Rolf Jeltsch (ETH, Zurich), and Marcelo Viana, Director of the National Institute for Pure and Applied Mathematics (IMPA) and President of the Organising Committee of the International Congress of Mathematicians ICM 2018, which will take place between 1 and 9 August 2018, in Rio de Janeiro, Brazil.
Texts such as research monographs, conference proceedings, among others, can be submitted to the CIM Series in Mathematical Sciences.

Call for Submission
INESC TEC researchers are invited to submit proposals to the President of CIM for the publication of monographs (in English) authored by them, or for editing Conference proceedings with selected works. More information here.

The INESC TEC researcher mentioned in this news piece is associated with UP-FCUP.
INESC TEC, January 2016