Document Actions
INESC TEC organises workshop on oil exploration and production
On 19 February, INESC TEC organised a workshop on oil exploration and production (E&P).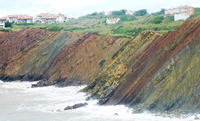 Promoted by INESC TEC's High-Assurance Software Laboratory (HASLab) and Laboratory of Artificial Intelligence and Decision Support (LIAAD), this project brought together researchers working in oil and natural gas E&P and INESC TEC researchers.
The goal with this workshop was to discuss the scientific research in this area, addressing themes such as techniques and models used, in particular data mining and processing techniques. Following this event, interdisciplinary relations are being promoted, and the application of data mining and advanced computing to geoscience is now being discussed.
Speakers at this event included Rui Oliveira, member of the Board of INESC TEC, and Alípio Jorge, coordinator of LIAAD. The workshop also featured guests such as Roberto Fainstein of the Society of Exploration Geophysicists, Rui Pena dos Reis of the Department of Life Sciences (University of Coimbra), Martin Tygel of the Department of Applied Mathematics (State University of Campinas), and José Carlos Lopes of the Department of Chemical Engineering (FEUP).
The INESC TEC researchers mentioned in this news piece are associated with INESC TEC, UP-FCUP and UMinho.
Photo credits: Rui Pena dos Reis
INESC TEC, February 2016