Document Actions
Secretary of State of Industry visits INESC TEC
On 27 November, INESC TEC received the visit of the Secretary of State of Industry, Ana Teresa Lehmann, and José Sequeira, member of the same Cabinet. The goal of this visit was to present the work developed by INESC TEC and the future challenges for the industry.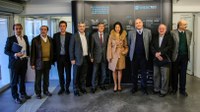 José Manuel Mendonça, Chairman of the Board of Directors, welcomed the team and gave an institutional presentation of INESC TEC, demonstrating its structure, organisation and positioning, as well as the work developed and the most relevant results in the various areas of activity.
Afterwards, a presentation was given on the activities of the institute in the area of Industry, from basic research projects to applied research projects and advanced consulting, highlighting the results achieved in national and international companies belonging to such diverse sectors such as footwear, the automotive industry, furniture, distribution or production technologies. Experience within the scope of the Industry 4.0 was a highlight. This domain of activity of INESC TEC comprises more than 180 researchers in several research centres, such as the Centre for Enterprise Systems Engineering (CESE), the Centre for Industrial Engineering and Management (CEGI), the Centre for Robotics in Industry and Intelligent Systems (CRIIS) and the Centre for Innovation, Technology and Entrepreneurship (CITE). These centres are linked to other research centres related to Computer Science and Energy in an area of innovation called TEC4Industry.
The entourage also had the opportunity to visit one of INESC TEC's laboratories, the Laboratory of Smart Grids and Electric Vehicles. There, a model of collaboration with the industry of the electricity sector, developed by the Centre for Power and Energy Systems (CPES), was presented. This demonstrated the capacity to develop knowledge and advanced technologies and the support given to companies in transforming technologies that are developed and tested in the Laboratory into products.
The researcher mentioned in this news piece is associated with UP-FEUP.