Document Actions
INESC TEC organises conference on the importance of Intellectual Property in ICT
On 18 June, INESC TEC organised the "Conference IP Issues in ICT", which took place at FEUP's facilities. The conference, which welcomed almost 100 participants, was organised by Catarina Maia, who leads INESC TEC's Technology Licensing Office (SAL).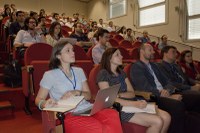 What is a software patent? Is it possible to patent software which includes open source software? Is it possible to use different open source licences in the codes and what are the implications? These were some of the issues addressed in the conference, especially geared towards software engineers, with a particular emphasis on Intellectual Property (IP) in Information and Communication Technologies (ICT). IP is one of the main foundations for building an innovative and competitive economy, and is fundamental for any country investing in innovation, technology and research.
The conference welcomed national and international speakers, such as Cristina Margarido, Patent Examiner at EPO, in Germany, Kathleen De Belder, IP Business and Intelligence Officer at IMEC, in Belgium, Malcolm Bain, partner at id law partners, in Spain, and finally Mirko Boehm, Director for Linux System Definition, Open Innovation Network, in Berlin, Germany. The event, opened by José Manuel Mendonça, Chairman of the Board of INESC TEC, welcomed almost 100 participants.
This is another initiative organised as part of the celebrations of INESC TEC's 30th anniversary, promoted within project "NORTE-07-0124-FEDER-000055" funded by the Regional Operational Program for the North of Portugal (ON.2 – O Novo Norte), within the National Strategic Reference Framework (NSRF), through the European Regional Development Fund (ERDF), and by national funds through the Foundation for Science and Technology (FCT).
The INESC TEC researchers mentioned in this article are associated with the following partner institutions: INESC TEC and FEUP.
INESC TEC, June 2015