Document Actions
Lecture on Spectrum Sharing at INESC TEC
Sumit Roy, professor at the universities of Washington and Seattle, in the USA, gave a lecture on "Spectrum Sharing: Scenarios and Opportunities" at INESC TEC, promoted by the Centre for Telecommunications and Multimedia (CTM).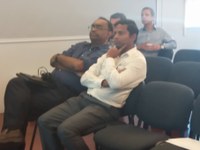 Organised in partnership with the IEEE Communications Society Portugal Chapter and the Faculty of Engineering of the University of Porto, this initiative took place during the afternoon on the 25th of September.
This lecture revolved around the advancement of research surrounding this theme, new emerging ideas, and the possibility of creating less costly specific tools and infrastructures.
Sumit Roy concluded his PhD in Electrical Engineering at the University of California in 1988. Currently, Roy works on research related to the analysis and design of wireless communication networks and sensing systems and their application in a variety of technologies. Already with numerous international distinctions, Roy was named an IEEE Fellow in 2007.