Document Actions
ERAS (news article)
Expedite Virtual Reconstruction of Cultural Heritage Sites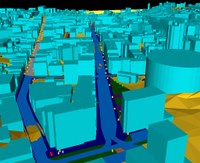 INESC TEC enhances virtual reconstruction of archaeological sites
The project "Expedite Virtual Reconstruction of Cultural Heritage Sites" (ERAS) aimed to create a tool for the field of archaeology which made it possible to rebuild and visualise georeferenced archaeological sites with complete buildings, indoors and outdoors.
The resulting buildings can be created according to predetermined rules and without any initial geometric model. The constructions, whether they are well preserved or in ruins, are modelled from that information in order to develop some rules that act as constraints to the generation process. The same applies to buildings that no longer exist, but for which there is textual information in books and old documents, for example.
Other than INESC TEC, other partners included University of Trás-os-Montes and Alto Douro (UTAD), the Faculty of Engineering of the University of Porto (FEUP) and the Polytechnic Institute of Leiria (IPL). INESC TEC was responsible for developing the system to model archaeological sites in 3D.
The researcher responsible for the project was Augusto Sousa, researcher at the Centre for Information Systems and Computer Graphics (CSIG). The team also included Luís Magalhães and António Coelho, also from CSIG.