Document Actions
Project RELECT of INESC TEC gathers data to study environmental radioactivity
Within the scope of the work developed by INESC TEC in the field of environmental radioactivity, with an emphasis on geoscientific applications like monitoring radon gas, the RELECT (Radioactivity and Electric field monitoring campaign at Hyytiälä) campaign took place in the SMEAR II station, in Finland, between the 12th and 16 th of June, with funding by project ENVRIplus.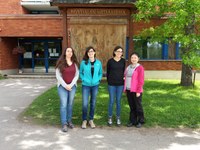 The SMEAR II station (Station for measuring Ecosystem-Atmosphere Relations), in Hyytiälä, is a multidisciplinary research structure, devoted to monitoring energy and matter flows between soil, forest and atmosphere. This station is part of the European structure ICOS (Integrated Carbon Observation System), which studies the carbon cycle and the greenhouse effect and is integrated in the European project ENVRIplus, an interdisciplinary cluster of research structures in several areas of geoscience, including sea, atmosphere, biosphere and solid earth.
Different radioactivity sensors from INESC TEC, including gamma radiation, radon (alpha particles), and a sensor of atmospheric electric field, were installed in Hyttiälä, providing fundamental data for the study of temporal variability in environmental radioactivity and its relation with the atmosphere. The location of this campaign, of high latitude, implies a strong flow of cosmic rays and high energy particles, allowing an innovative study of several space-atmosphere-surface interactions through the simultaneous measurement of gamma radiation, radon and electric field. The data gathered in this campaign, which will be openly available and free of charge, are an important contribution to different geoscientific domains.
In addition to the person in charge of the project, Susana Barbosa, researcher at the Centre for Information Systems and Computer Graphics (CSIG) of INESC TEC, Catarina Monteiro and Diana Guimarães, also from CSIG, and Xuemeng Chen, form the University of Helsinki, also participated in this campaign. The project also had the collaboration of the Infrastructures Maintenance Service of INESC TEC through Manuel Silva, who helped prepare the equipment.
This monitoring campaign will run until October 2017 and contributes to the COST action in atmospheric electricity Electronet (Atmospheric Electricity TransNational Access to Research Infrastructures Network: coupling with the Earth System, climate and biological systems), in which INESC TEC participates. It is supported by ENVRIplus TransNational Access to Research Infrastructures, with funding from the EuHorizon 2020 programme for research and innovation, under the agreement no. 654182.
The researchers form INESC TEC mentioned in this news piece are associated with INESC TEC.