Document Actions
INESC TEC wins another Best Paper Award
Ana Paiva and Nuno Flores, researchers at INESC TEC's Centre for Information Systems and Computer Graphics (CSIG), have won a Best Paper Award as part of the HEAD'16 – 2nd International Conference on Higher Education Advances, which took place in Valencia, Spain, between 21 and 23 June.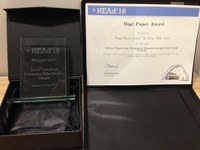 Entitled "Software Engineering Management Education through Game Design Patterns", the paper was co-authored by Pedro Letra, student at the Faculty of Engineering of the University of Porto, and addressed the theme of Serious Games as a learning tool. In this paper, the authors introduce a process that makes it possible to identify patterns in games which are relevant in the teaching of software engineering, especially project management software.
The paper will now be published in Procedia – Social and Behavioral Sciences, an Elsevier journal indexed in Scopus.

The INESC TEC researchers mentioned in this news piece are associated with UP-FEUP.
INESC TEC, June 2016