Document Actions
INESC TEC participates in project about climate change on the coast of Galicia and Northern Portugal
The first meeting of the cross-border project MarRISK took place on the 11th of July in Santiago de Compostela. This project is coordinated by METEOGALICIA (regional meteorological agency of Galicia) and was approved by the Operational Programme for Cross-border Cooperation: Spain – Portugal (POCTEP). INESC TEC is one of the partners of the project.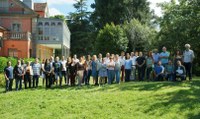 The goal of the MarRISK project is to contribute to the improvement of the sustainable management of coastal zones through the consolidation of knowledge about the processes that increase coastal risks, including those resulting from climate change. This way, it hopes to fill the gaps and develop tools capable of converting the processed information into "climate services" that are useful for the planning carried out by decision makers and other stakeholders who perform activities concerning the coast and the sea. INESC TEC is responsible for conceiving and developing a platform of climate alert services and hopes to contribute to the creation of a marine Spatial Data Infrastructure.
The project promotes the involvement of authorities and stakeholders such as municipal councils, state institutions (like CCDR-N), port companies (like APDL), environmental associations and companies with activities linked with the sea. It considers these authorities and stakeholders very important because they not only are the main local and regional recipients, but they are also responsible for determining the adoption of measures capable of increasing resilience to and mitigating the effects of coastal processes and, particularly, those susceptible of worsening with climate change.
Climate effects will be studied in terms of physicochemical, biological and morphosedimentary parameters. The project will focus on developing climate services that increase resilience to flooding and erosion risks and to their impact on natural resources – including aquaculture and fishing – and populations, on economic agents (industry, tourism) and on coastal structures – with an emphasis on port areas.
INESC TEC participates in this project through the Centre for Information Systems and Computer Graphics (CSIG), with researchers Artur Rocha, Lino Oliveira, Paulo Monteiro and Alexandre Costa.
The consortium is composed of 13 partners from Portugal and Spain and, other than INESC TEC, includes universities (Vigo, Minho, Aveiro), institutes, research centres, and agencies (CIIMAR, IPMA, IH, APA, CETMAR, INTECMAR, IIM-CSIC) whose aim is to establish a cross-border network focused on coastal risks.
The project has a budget of nearly three million euros, 75% of which comes from FEDR, and a duration of 36 months.
The researchers mentioned in this news piece are associated with INESC TEC.