Document Actions
INESC TEC with best paper award in Saudi Arabia
Hugo Paredes, Hugo Fernandes, André Sousa, Vítor Filipe and João Barroso, researchers at INESC TEC's Centre for Information Systems and Computer Graphics (CSIG), received a best paper award at the International Conference on Recent Advances in Computer Systems (RACS-2015), which took place between 30 November and 1 December at the College of Computer Science and Engineering, Hail University, in Saudi Arabia.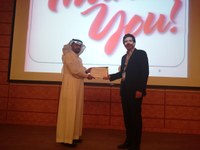 The paper, titled "Pervasive Crowd Mapping for Dynamic Environments", presents a model that combines computational intelligence and human-based computation to perform the recognition, in real time, of the surrounding environment and its obstacles, sharing this information with the users and notifying them of temporary dangers.
The conceptual model proposed by the researchers is based on the passive acquisition of data using common sensors (smartphone, smartwatch, smartglasses, fitness trackers), combining the data acquired and correlating them with obstacles and danger.
It is important to stress that INESC TEC is experienced in the research and development of navigation solutions for the visually impaired, with the goal of improving their autonomy, navigation and orientation experience.
The paper was co-authored by Fernando Koch of the Samsung Research Institute Brazil, and was presented in a special session on Advances in Internet and Web of Things - AIWoT, following an invitation from Yehya Mohamad of the Fraunhofer Institute for Applied Information Technology FIT, Germany.
The researchers mentioned in this news piece are associated with UTAD.

INESC TEC, December 2015