Document Actions
INESC TEC and Portuguese Navy promote safety at sea
On 14 July, INESC TEC's Robotics and Intelligent Systems Unit (ROBIS), together with the Portuguese Navy, conducted tests with autonomous vehicles developed at the Unit to assist maritime operations.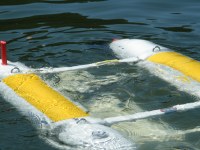 The exercises, conducted in the areas of Sesimbra, Tróia and Santa Cruz (Portugal) and entitled "Rapid Environmental Picture 2012" (REP12), took place between 9 and July 20. Combining the areas of Defence and Security, Research & Development (R&D) and Industry, this technology may be used, for example, in search and rescue operations.
It is important to highlight that in June 2011 INESC Porto (INESC TEC's coordinating entity) and the Portuguese Navy signed a partnership agreement to combine synergies for the development of maritime autonomous systems that can support search and rescue operations in the event of a disaster.
Other than INESC TEC and the Portuguese Navy, other national and international institutions participated in these exercises, such as the Faculty of Engineering of the University of Porto (FEUP), NATO's Center for Maritime Research and Experimentation (CEMR), the Monterey Bay Aquarium Research Institute (MBARI), the University of California at Berkeley, the Norwegian University of Science and Technology, Technion, Liquid Robotics, OceanScan, Evologics and the U.S. Coast Guard. For the first time the Portuguese Air Force also participated in these exercises, testing autonomous aircrafts developed as part of project PITVANT.
During the REP12, 10 underwater vehicles were tested, as well as seven surface vehicles and seven aircrafts. Part of the exercise took place in the areas of Sesimbra and Tróia, where about 30 researchers, military and civilian, went aboard the NRP Bacamarte.
BIP, July 2012