Document Actions
Best PhD dissertation in the world belongs to Portuguese researcher
Entrepreneurship. This is the first time that a Portuguese researcher receives this award. Sérgio Costa conducted a study on changes in business models.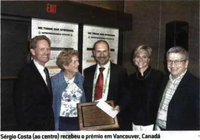 Sérgio Costa has recently received an award, in Vancouver, Canada, for best PhD thesis in the world in the area of entrepreneurship. This is the first time that a Portuguese researcher receives the Heizer Best Dissertation Award 2015 of the Academy of Management, which is considered the most important award in this area. There were three finalists, but the Portuguese researcher was the winner, with his dissertation titled "Business Model Change in Early-Stage University Spin-offs", developed at the University of Strathclyde, United Kingdom.
The project focused on spin-off companies created by members of the British university, and it focuses on two areas: business models and academic entrepreneurship. The winner of the award followed eight early-stage university spin-offs, collecting data monthly for a year.
The method selected to collect data provides "a more real perspective of the phenomenon". This study is innovative in a sense that it analyses business model change in detail.
Sérgio Costa concluded that companies with best performance "do more homework" before they are launched, thus making it possible to manage resources better. The Portuguese entrepreneur, trained at the Faculty of Engineering of the University of Porto and Porto Business School, admitted that "it is very satisfying to have your work acknowledged like this".
While teaching at the University of Bath, United Kingdom, Sérgio Costa wants to continue pursuing this study, in which INESC TEC is involved. Even though he is collaborating with Portuguese institutions, Sérgio Costa doesn't know if he'll be returning to Portugal.
Jornal de Notícias, 19 August 2015