Document Actions
INESC TEC article on Machine Learning receives award
The article "Arbitrated Ensemble for Time Series Forecasting", authored by INESC TEC researchers Vítor Cerqueira and Luís Torgo (LIAAD – Laboratory of Artificial Intelligence and Decision Support) and Fábio Pinto and Carlos Soares (CESE – Centre for Enterprise Systems Engineering), received the Best Student Machine Learning paper award, promoted by the Machine Learning journal.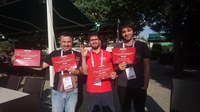 The work was selected from the best papers presented within the context of the European conference "Machine Learning & Principles and Pratice of Knowledge Discovery in Databases 2017" (ECML-PKDD 2017), which took place from the 18th to the 22nd of September in Skopje, Macedonia.
The articule focuses on time series forecasting. The goal of the work is forecasting future values close to data collected over time. The authors presented a method that auto-adjusts to the different dynamics and regimes that characterise time series. To incentivise the reproducibility and the use of the method, it is available through the statistical tool R in the tsensembler package.
The researchers mentioned in this news piece are associated with INESC TEC, UP-FEUP and UP-FCUP.