Document Actions
INESC TEC researcher among 25 Portuguese success cases in European COST programme
Alexandra Marques, a researcher at INESC TEC's Centre for Enterprise Systems Engineering (CESE), is one of 25 success cases of the Portuguese participation in all areas of the EU COST (European Cooperation in Science & Technology) Programme.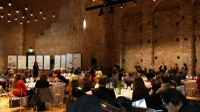 The 25 researchers selected were present at the event «Inspiring researchers, strengthening Europe. Portugal in the spotlight», which took place in Lisbon, on 20 February, and featured Manuel Heitor, Minister of Science, Technology and Higher Education, and Carlos Moedas, European Commissioner for Research, Science and Innovation, as well as other representatives from the European Commission and the Portuguese Government. The event was an opportunity to announce these cases and to promote the discussion between scientists and those responsible for managing research funds at European and national levels.
Alexandra Marques presented her work in technologies to manage forest resources. This work started as part of the COST Action FORSYS - Forest Management Decision Support Systems (2008-2013), where Alexandra Marques coordinated a work group. The contact network established as part of this project was key to the preparation of project FP7 FOCUS Advances in Forestry Control and Automation Systems in Europe (2014-2016). The project was coordinated by the researcher and featured several COST partners.
Generally speaking, the COST programme proposes discussing research in the fields of science and technology, promoting the combination of different disciplines in order to produce innovative solutions for current problems, and creating a platform for discussing and sharing ideas.
Portugal is the founding member of the programme since 1971, with the participation of numerous Portuguese researchers, who have been strengthening their international network of contacts by working in shared actions, while working at the same time in national research projects with great potential.
The researcher mentioned in this news piece is associated with INESC TEC.
Photo credits: COST
INESC TEC, February 2017