Document Actions
INESC TEC in project with IKEA Industry
INESC TEC's Centre for Enterprise Systems Engineering (CESE) is currently providing services to IKEA Industry. The goal is to design the layout for the production system and thus optimise the use of machines, increasing efficiency and reducing costs. Following this project, IKEA Industry hopes to double their production capacity.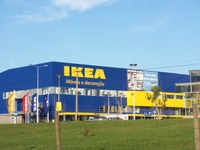 As part of this work, which started in September 2014, INESC TEC developed simulation models that make it possible to replicate the production system in the factory, representing with a high level of detail all the existing flows of materials, intermediate buffers and the capacity of the machines. The goal is to maximise production by designing a more flexible layout, and by determining the size of the intermediate buffers and analysing the size of production lots. The simulation models make it possible to immediately assess the impact of different alternatives, and thus support the decision-making process by providing detailed information on the dynamic behaviour of the new production line.
"Even though this is a complex problem, we are very pleased with the results and with the way the project was developed", explains André Moura, representative of IKEA Industry in this project. "Due to our dimension and the volumes of material we work with, it is imperative that we have decision-making tools like this one, and we believe that all industries will adopt similar tools in the future", he added.
IKEA Industry, located in Paços de Ferreira, Portugal, employs over 1,400 people and produces furniture for the entire world, including North America, Europe and Australia. By the end of the project, with the optimisation of the factory, IKEA Industry hopes to double the production of kitchen fronts (over six million instead of three million).
The CESE team involved in this project included Rui Rebelo, Samuel Moniz and Paulo Marques.
The INESC TEC researcher mentioned in this article is associated with the following partner institution: INESC TEC.
Photo credits: Wikipedia
INESC TEC, October 2015