Document Actions
INESC TEC project increases the competitiveness of SMEs
The main goal of project ATM is to obtain timely scheduling solutions, which will then be evaluated using a panel of quantitative indicators, seeking a compromise between deliveries and a cost-efficient use of the tools.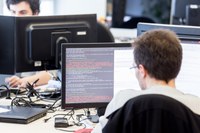 Project ATM - Advanced Tools Management is led by INESC TEC's Centre for Enterprise Systems Engineering (CESE), and its goal is to offer an advanced and competitive operations planning solution, which optimises the use of equipment and tools, integrated with the AGV Lean logistics system.
The integrated solution is specifically designed for small and medium enterprises in the field of precision metalworking, where managing tools is often a problem.
Using this solution will make it possible to increase the availability of tools and consequently improve the efficiency of the workplaces, reducing the cost of logistics management and allowing the operators to be available for other added value activities.
The project started in September 2016 and will be concluded in February 2018. The list of partners features VANGUARDA - Management Solutions and Business Organisation, and JASIL - J. António da Silva. The INESC TEC team is coordinated by António Correia Alves and also involves researchers Luís Guardão, Luís Lima, Rui Rebelo and Sofia Oliveira.
More information about the project at http://advancedtoolsmanagement.com.
The researchers mentioned in this news piece are associated with INESC TEC and UP-FEUP.
Photo credits: Alexandre Delmar

INESC TEC, December 2016