Document Actions
INESC TEC researcher is the best reviewer of the Journal OMEGA
Ana Camanho, senior researcher at INESC TEC's Centre for Industrial Engineering and Management (CEGI), received the 2014 award for best reviewer of the journal OMEGA – The International Journal of Management Science.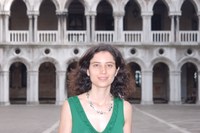 This journal addresses themes related to management, including recent research results and applications. The publication contains original contributions and revision articles describing the state of the art in specific management areas or tasks, as well as critical evaluations of management techniques.
OMEGA is third in the Journal Citation Reports ISI ranking in the area of Operations Research & Management Science, with an impact factor of 3.190.
Other than being senior researcher at CEGI, Ana Camanho is member of the Centre's Scientific Council and leads the Performance Management area at the Centre. The researcher specialises in Data Envelopment Analysis and Performance Assessment, and is working on numerous R&D projects. She also supervises doctoral and postdoctoral students and publications in areas such as health, education, retail, construction industry, transportation, fishing, quality of life and sustainability, both at urban and regional level.

The INESC TEC researcher mentioned in this article is associated with the following partner institution: FEUP.
INESC TEC, February 2014