Document Actions
INESC TEC receives prize for most influential paper in journal Transport Policy
The paper "Understanding attitudes towards public transport and private car: A qualitative study", written by Gabriela Beirão and José Sarsfield Cabral, researchers at INESC TEC's Centre for Industrial Engineering and Management (CEGI) has received the Transport Policy Prize.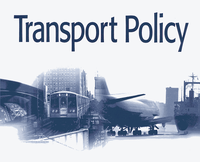 The prize was awarded at the WCTR 2016 (14th World Conference on Transport Research), in July 2016, in Shanghai, China. It is awarded by the WCTRS (World Conference on Transport Research Society) following a recommendation from the publishers of Transport Policy for most influential paper according to the number of citations and downloads in the areas covered by the journal for a period of three years (2013-2016).
The awarded paper, published in 2007 in Transport Policy, presents a qualitative study with users of public transportation and cars. The goal was to obtain in-depth knowledge of their travelling behaviours and to understand their perceptions of transportation and the quality of service provided by public transportation.

The INESC TEC researchers mentioned in this news piece are associated with UP-FEUP.

Photo credits: www.wctrs-society.com
INESC TEC, July 2016