Document Actions
SMART
Secure memories and applications related technologies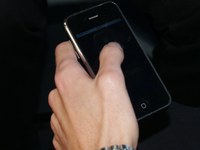 The SMART project aimed at developing new HW and firmware technologies for the secure storage of high volumes of multi-form data. The goal was to make it possible to scale and optimise various applications in new generation Smart Secure Devices.
As such, SMART addresses the Sub Program 3 of the ENIAC Annual Work Programme, which covers Nanoelectronics for Security & Safety, and especially the first topic "Trusted devices and smart secure portable objects".
The SMART project is in line with ENIAC SP3 market relevance and societal needs:
Ubiquitous security is a major challenge for the information society, as tremendous amount of data circulate and are stored all over the world, available from anywhere at any time.
The integration of secure solutions in SoC and memories will make the Smart Secure Devices available at low cost.
Security and safety (i.e. fault tolerance) becomes a basic requirement for embedded devices, especially in view of deployment in life sensitive environments such as transportation, health devices, etc.
Starting Date: January 1, 2010

Project team: Manuel Bernardo Barbosa
Project Website: SMART