Document Actions
FotoInMotion project wants to create immersive stories from photographs and videos
FotoInMotion is the new research and development project of INESC TEC in the area of digital media and creative industries. This project aims to develop tools capable of creating immersive and contextualised multimedia stories from a photograph through the incorporation of virtual reality and 3D elements.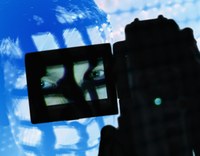 Promoted by the Centre for Telecommunications and Multimedia (CTM) of INESC TEC, this project aims to develop an innovative solution for the reutilisation of audiovisual content, particularly photos and videos, allowing content creators to build, in a simple and guided way, multimedia stories that are rich both in content and context.
The goal will be fulfilled through the development of automatic tools for context identification and for recognition of objects and people with visual information and creation of semantic descriptions, whether from an original photo, or from visual content available online. Advanced applications for the creative transformation of content, including 3D and animated, will use these tools, which will allow them to select, in an automatic and/or guided way, content already available online that relates with the original photo and that are relevant to the creation of the multimedia story.
The project focuses on three sectors of creative industries, namely photojournalism, fashion and festivals. The solution that FotoInMotion hopes to develop will be capable of combining the narrative power of video content with the ease of taking and providing photos. It will also simplify the process of exchanging information between journalists and media professionals, favouring the reutilisation of the large volumes of audiovisual content available online.
The solution will integrate image analysis tools, acquisition and interpretation of contextual data, automatic and assisted generation of metadata and intelligent tools for 2D and 3D edition.
The CTM team is comprised of Paula Viana, Pedro Carvalho and Teresa Andrade, the latter being responsible for coordinating INESC TEC's participation.
The application was submitted within the scope of the H2020-ICT-20-2016-2017 - Tools for smart digital content in the Creative Industries call. The consortium comprises eight partners from seven European countries (Luxembourg, Greece, France, the Netherlands, Italy, Estonia and Portugal), six of which are SMEs and two of which are research institutes.
The project has a budget of €2,548,288.75 for 36 months and has received the maximum rating in all criteria, totalling 15 points out of 15.
The researchers mentioned in this news piece are associated with INESC TEC, IPP-ISEP and UP-FEUP.