Document Actions
New doctorates at CTM
Soraia Ferreira, Abayomi Otebolaku and Fardin Derogarian Miyandoab, researchers at INESC TEC's Centre for Telecommunications and Multimedia (CTM), are the most recent doctorates at CTM.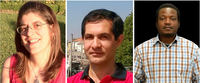 Soraia Ferreira, Fardin Derogarian Miyandoab and Abayomi Otebolaku
In her thesis, titled Location based transmedia storytelling: enhancing the tourism experience, Soraia Ferreira presents TravelPlot Porto, an innovative and interactive project that allows tourists to go on an interactive trip through the city of Porto. Composed of different platforms – including an iPhone/Android app, a Website, a map, live events and social networks (YouTube, Twitter and Pinterest) – this project is a type of unconventional tour guide that allows people to explore the city. Soraia Ferreira did her PhD in Digital Media, with Artur Pimenta Alves, Senior Consultant to the Board of INESCT TEC and Full Professor (retired) at FEUP, as her advisor, and Célia Quico, Assistant Professor and Researcher at Universidade Lusófona de Humanidades e Tecnologias (Portuguese University of Humanities and Technology), as her co-advisor. Soraia Ferreira concluded her PhD in February 2015.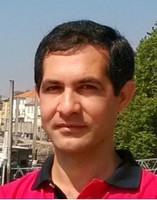 Fardin Derogarian, supervised by João Canas Ferreira and Vítor Grade Tavares, all researchers at CTM (CTM) and professor at FEUP, presented a thesis titled Design of a body sensor network embedded in textiles for biomedical applications, where he addresses the use of BAN (Body-Area Networks) in medical and non-medical environments. The entire communication infrastructure, including
hardware, software and protocols, has been designed by the researcher. The overall system includes an on-body central processing module connected to a computer via a wireless link and a wearable network sensor. Here, the nodes of the BAN are embedded in a garment and interconnected with conductive yarns in a mesh topology. The communication module has been implemented on an integrated circuit (IC) using a 4-metal, 0.35 µm CMOS technology. Fardin Derogarian concluded his PhD in April 2015.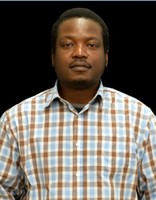 In his thesis, titled Context-Aware Personalization for Mobile Multimedia, defended in May 2015, Abayomi Otebolaku presents a system that uses existing sensors in mobile devices, such as accelerometer, orientation, GPS, light or sound sensors to obtain information about mobile users' contexts to provide personalised mobile content. Simultaneously, the system monitors users' consumptions to build contextualised user profiles. Using the data collected and the contextualized user profiles, it delivers seamlessly or on-demand content suggestions, such as movies, to mobile users, adapted to their current usage contexts, characteristics of the device, time of the day, location, network connections, environmental conditions, among others. The system called "Context-Aware Personalized Multimedia Recommendations for Mobile Users" (CAMR) consists mainly of an Android-based mobile app and a Web-based application both serving as a proof-of-concept for the proposed solution. Abayomi Otebolaku's PhD was supervised by Teresa Andrade, researcher at CTM and assistant professor at FEUP.
CTM/INESC TEC, July 2015