Document Actions
INESC TEC researcher creates systems that increases the popularity of online news
A team composed of researchers from the Universities of Porto and Minho, including a researcher from INESC TEC and student of the MAP-i doctoral programme, Kelwin Fernandes, has created an intelligent system that makes it possible to increase by 15% the popularity of a news piece, and to identify the majority (73%) of news that will be most popular.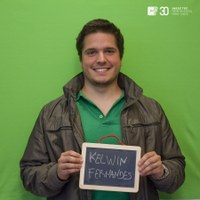 Kelwin Fernandes
The solution suggests improvements to the design of online news prior to publication, in features such as the number of words in the title, keywords (previously used in other news), and the choice of certain links.
The innovative system uses three modules: collection of data, prediction of popularity, and optimisation. The first module combines indicators, such as the number of words in the title, keywords, previous news, news shares, keywords, reference to previous news, sentiment (positive/negative) generated by the news, and the use of images and video. In the prediction module, the data collected will be used to train machine learning models, creating a model that predicts the probability of popularity of a certain news piece. Lastly, an optimisation module will be used to search for change suggestions to the news, thus increasing the estimated probability.
Paulo Cortez, Pedro Vinagre (of UMinho's Algoritmi Centre) and Kelwin Fernandes started developing this solution as part of a PhD project. They have already applied the decision support system to almost 40 thousand news items published since 2013 in Mashable, the largest news blog on new technologies, with 24 million followers and 7.5 million shares.
The work, titled 'A proactive intelligent decision support system for predicting the popularity of online news', won the Best Paper Award at the 17th Portuguese Conference on Artificial Intelligence. The paper was chosen from a total of 81 papers from 187 countries, and has already been published by Springer.
The researchers mentioned in this news piece are associated with INESC TEC and FEUP.

INESC TEC, December 2015