Document Actions
MARES
Modular Autonomous Robot for Environment Sampling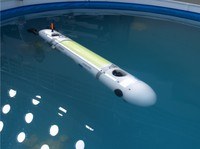 INESC TEC revolutionises water quality and effluent monitoring practices in rivers and in the sea with underwater robot MARES.
MARES – Modular Autonomous Robot for Environment Sampling is an autonomous underwater vehicle capable of descending to up to 100 metres and following predefined trajectories, collecting data with on-board sensors to measure water quality.
These sensors allow it to analyse data such as water temperature, pH, dissolved oxygen, turbidity or fluorescence, among other parameters, and consequently measure levels of pollution. On top of this, with a small video camera, MARES is able to detect cracks in structures (dams and bridges) and being autonomous it does not require human intervention (divers for example), meaning it does not put human lives at risk.
Developed by OceanSys (which includes members from INESC TEC and from the Faculty of Engineering of the University of Porto), this robot can be easily configured and its modular structures allows it to carry a large variety of sensors for different application scenarios. Environmental monitoring, underwater inspection, mapping and surveillance are only some of the assets of this vehicle, which has been used since 2007 in environmental monitoring operations.
The main features of the vehicle are:
Modular construction with reconfigurable sections;
Several ports to accommodate sensors capable of collecting data;
Compact and light – it is easy to transport and use;
Robust, with fully shrouded moving parts;
Operates within defined areas – able to ascend/descend vertically;
Immobilisation in the water column;
Autonomous operation with simple mission definition;
Rechargeable Lithium-Ion batteries;
Length – 1.5 metres; Diameter – 20 centimetres;
Weight: 32 kilograms;
Maximum depth: 100 metres;
Autonomy/range: 10 hours / 40 kilometres.

Partners:
INESC TEC and FEUP
Contact:
INESC TEC (e-mail: info@inesctec.pt)
More information
:
OceanSys