Document Actions
RobVigil
Collaborative and intelligent surveillance robot for the security market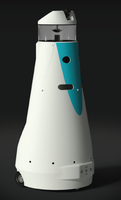 INESC TEC's boosts R&D and Innovation in the area of security and tele-monitoring of people and goods providing solutions for intelligent control and monitoring in large areas.
Integrating a consortium budgeted at 1.2 million euros, INESC TEC participates in the development of a differentiating surveillance robot solution. The intention is to develop the first intelligent surveillance robot in the world, capable of moving autonomously and of cooperating with other robots and operational security in the area, through tele and video conferencing.
The foundations for this design are technologies already developed and tested successfully in earlier projects at INESC TEC and FEUP with high potential for exploitation. The main beneficiaries of this technology are large surfaces with specific surveillance needs. The robot represents an important factor to increase security as it is capable of going on rounds, recognising and following intruders (capturing video), and guiding a mobile unit in hazardous environments (such as in the event of gas leak, fire, etc.).
The robot functions as a support to operational guards in the field and it is innovative and different from all solutions on the market today. Equipped with integrated sensors (microphone, Intrusion Detector, gas, fire, smoke, flooding, etc.), the robot alone or with a team of multiple mobile robots is able to interact with others in the same physical space and to ensure tasks which are potentially hazardous to humans, thereby reducing operational monitoring costs of and, above all, the human risk.
From the point of view of developers, this system provides a value added service and earns its own place in an emerging market.
Furthermore, it transfers technologies to the market and strengthens a team of R&D in robotics, one of the areas of expertise of INESC TEC, and the security of goods and people in particular.
INESC TEC mobilises three of its Centres for this project:
The Centre for Robotics and Intelligent Systems (CROB), which developed the robotic platform and self-localisation algorithms;
The Centre for Telecommunications and Multimedia (CTM), which developed the potential of video (tracking) and secure wireless communications;
The Centre for Information Systems and Computer Graphics (CSIG), which devised the management platform.


Project Leader: Clever House - Intelligent Systems Ltd.
Partners:
STRONG Security
SINEpower
INESC TEC
FEUP

Contact: Carlos Pinho