Document Actions
iTESLA (News article)
Innovative Tools for Electrical System Security within Large Areas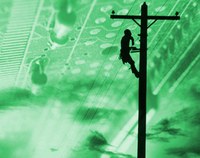 Project iTELSA (innovative Tools for Electrical System security within Large Areas) is one of the largest European projects in pan-European transmission networks. The project is funded by the European Commission, as part of the 7th Framework-Programme.
The aim of project iTELSA is to provide a flexible tool that can support pan-European electricity transmission networks. INESC TEC's Centre for Power and Energy Systems (CPES) will be responsible for the development of Work Package 7, which will focus on the integration and validation of this tool.
INESC TEC is part of a work group that includes six European Transmission system operators: RTE – Réseau de Transport d'Électricité (France, project coordinator), Elia (Belgium), NGC – National Grid (United Kingdom), REN – Redes Energéticas Nacionais (Portugal), Statnett (Norway) and IPTO – Independent Power Transmission Operator (Greece). The following institutions are also part of the consortium: CORESO, PEPITE, KU Leuven and TRACTEBEL (Belgium), Artelys, BULL and TECHNOFI (France), RSE – Ricerca sul Sistema Energetico and QUINARY (Italy), AIA Electricity Grid (Greece), Imperial College London (United Kingdom), KTH Royal Institute of Technology (Sweden) and DTU – Technical University of Denmark (Denmark).
Starting in January 2012, the iTESLA has a total duration of 48 months.
More information:
http://www.itesla-project.eu/