Document Actions
INESC TEC welcomes workshop on case studies of project InteGrid
In February, INESC TEC organised a workshop on the case studies of InteGrid, a smart grids project. About 36 people attended the event.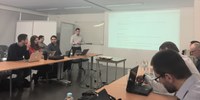 The two-day workshop was divided into two major sessions. The first session was dedicated to a tutorial on the methodology of case studies (IEC 62559 standard) and good writing practices. The second part of the workshop consisted of a brainstorming session to define a list of high-level case studies (business processes) divided into four domains: distribution system operators, new market/data management platforms, grid users and energy services.
As a result, a list of 13 innovative business functions has been established for different stakeholders, such as distribution system operators, aggregators, marketers, residential and industrial consumers. New paradigms such as predictive management of the medium and low voltage network, predictive asset management or a market for consumption flexibility are some of the case studies of the InteGrid project.
The next step involves defining functional processes (functionality smart grids) that will make it possible to develop the identified business cases, in order to achieve high levels of replicability and scalability that will make feasible the commercial exploitation of the solutions developed in the project.
INESC TEC is represented in project InteGrid by its Centre for Power and Energy Systems Center (CPES) and High-Assurance Software Laboratory (HASLAB).
INESC TEC, March 2017