Document Actions
European project SmartGuide presents first results in Turin
The European project SmartGuide (Defining Planning and Operation Guidelines for European Smart Distribution Systems), which is funded under the ERA-Net SmartGris+ initiative, presented its first results in Turin (Italy).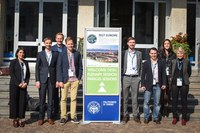 The project of the Centre for Power and Energy Systems (CPES) of INESC TEC has the goal of developing a set of guidelines for a better planning of smart grids.

At the special session of the "ISGT Europe 2017" conference, which took place in Turin, Bruna Tavares, researcher at CPES, presented advanced methods and algorithms for optimising the planning of distribution grids.

The special session of the conference was titled "Defining Planning and Operation Guidelines for Future Smart Distribution Grids – The SmartGuide Project". Questions such as "how will flexible resources affect the planning of distribution networks?", "how to deal with uncertainty in grid planning?" and "how to define general planning and operation guidelines for smart grids in Europe?" were broadly discussed during the session.

INESC TEC's role in the SmartGuide project is the development of a tool for the optimisation of smart grid planning with multicriteria analysis. This is intended to minimise investment and operation costs and to maximise the integration of renewable energy sources.

In addition to Bruna Tavares, INESC TEC researchers Filipe Joel Soares, Fabian Heymann, André Madureira and Manuel Matos are also involved in the project.

INESC TEC will head the first Work Package of the SmartGuide project, named "Smart Grid Solution and Technologies", which will serve as the work basis. Furthermore, it will be in charge of developing the optimisation tool described above.

The researchers mentioned in this news piece are associated with INESC TEC and UP-FEUP.