Document Actions
INESC TEC organises advanced training session in risk management in power systems
INESC TEC's Centre for Power and Energy Systems (CPES) has organised the training session "Risk Management in Power Systems: from Theory to Practice", which took place between 15 and 17 June at INESC TEC as part of the EES-UETP (Electric Energy Systems – University Enterprise Training Program) consortium.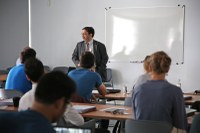 The goal was to offer advanced training in the domain of risk and uncertainty management associated with renewable energies in electricity systems. For that, the session featured various international trainers, as well as members of CPES.
Several theoretical and practical aspects have been addressed in the session, namely how to set and monitor the short- and long-term operational reserve needs, transmission network planning, dynamic line rating and operation of isolated electricity systems. Other emerging topics included stochastic electricity markets and the integration of distributed energy resources (such as active demand management) in distribution networks.
A total of 18 participants attended this course, including two members of the University of California at Berkeley (USA), a member of Iberdrola (Spain) and another from CESI - Testing Consulting Engineering Environment (Italy). The resulting participants came from different European universities.
Ricardo Bessa and Manuel Matos, researchers at CPES, were responsible for organising this training session.

The INESC TEC researchers mentioned in this news piece are associated with UP-FEUP and INESC TEC.

INESC TEC, June 2016