Document Actions
INESC TEC cooperates with Siemens to develop microgrids
One of the best ways of obtaining larger rates of renewable energy integration in the power grid is investing in microgrids and energy storage. Microgrids can autonomously supply energy to remote regions, whether they are connected to the main grid or not.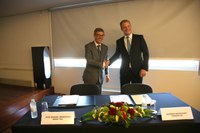 In that sense, on 27 July INESC TEC and Siemens AG signed a contract in order to develop simulation models and calculation methodologies to be implemented in a commercial simulation platform. The goal is to identify the maximum capacity of renewable energies integration in the grids, and thus increase this business model worldwide.
The contract was signed José Manuel Mendonça, president of the Board of INESC TEC, and Klemens Wegehaupt, Project & Solution Engineer at Siemens AG. The tool will be developed by INESC TEC and will analyse how microgrids work in different conditions. The tool will be an asset as it will be possible to adapt it to each particular case.
"We want to create a model that allows us to study the integration of renewable energies, such as solar, photovoltaic and wind power, in remote grids, and thus maximise the possibility of integrating renewable sources in microgrids", explains João Peças Lopes, member of the Board of INESC TEC, who will be participating in the project.
"We chose INESC TEC for their experience and knowledge in the field of solutions for isolated grids and energy supply in remote areas. These two features allow us to efficiently implement a robust simulation suited to the needs of our clients worldwide", explains Luís Marçal, director for Smart Grids at Siemens Portugal.
Using microgrids efficiently not only makes it possible to reduce CO2 emissions, but also to decrease the total costs of the electrical system. In fact, integrating renewable energy sources safely can significantly reduce the costs of fossil fuels which are typically at the base of the operation of these grids.
The INESC TEC researchers mentioned in this news piece are associated with UP-FEUP.

INESC TEC, July 2016