Document Actions
SIAC-Calcado-Inov
Study on the Innovation Dynamics in the Portuguese Footwear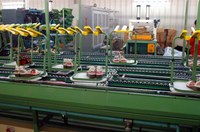 In 2010, INESC TEC's Centre for Innovation, Technology and Entrepreneurship (CITE) conducted a study on the innovation Dynamics in the Portuguese footwear sector, promoted and coordinated by the Portuguese Footwear and Leather Goods Industry (APICCAPS), with the support of the Portuguese Footwear Centre and the Porto Regional Centre of the Universidade Católica Portuguesa (UCP).
The Portuguese footwear industry is part of a broader cluster that extends to the leather goods industry and is significantly important to the national economy. In fact, it is one of the few industries that place Portugal at the top of international rankings, also representing the manufacturing industry which generates the largest favourable trade balance in the country.
The "Study on the Innovation Dynamics in the Portuguese Footwear Sector" was the result of the need to deconstruct the labels that were imposed on the sector, which underestimated the innovative performance of the companies in this sector, as well as its competitive position in the national economic framework. The deconstruction of these labels depends largely on the creation of new indicators that will make it possible to attract innovation specifications that cannot be achieved with the indicators used by the main national survey and statistics instruments used to measure Innovation.
As part of this study, CITE developed and proposed a simpler inquiry model to properly and quickly characterise the innovation dynamics in the Portuguese footwear sector.
The survey prompted the presentation of a paper at the 22nd ISPIM Conference – International Society for Professional Innovation Management, which took place in June 2011 in Hamburg, and will be tested on a wide set of footwear companies. The survey will allow APICCAPS to systematically collect and produce data that will properly characterise the behaviour and innovative performance of companies in the sector. This characterisation will be an important input to support, in the future, measures and projects that promote the sustainability of innovation in the sector.
Other than this survey, the study includes a compilation of case studies on Research, Development and Innovation (RDI) practices, strategies and projects promoted and developed by companies in this sector. This study will soon be available at the official website of APICCAPS.
Project leader: APICCAPS
Partners:
INESC TEC
Centro Tecnológico do Calçado de Portugal (Footwear Technology Centre)
Centro Regional do Porto da Universidade Católica Portuguesa (UCP) (Portuguese Catholic University)
Contact: Alexandra Xavier