Document Actions
INESC TEC and Enterprise Europe Network organise workshop on project management practices
INESC TEC, partner of the Enterprise Europe Network, has hosted a workshop on the principles of agile methodologies, which took place on 28 January.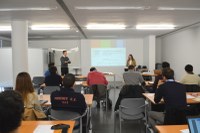 Organised in close collaboration with Strongstep, a company incubated at UPTEC and client of the Enterprise Europe Network, and targeting companies focusing on the international market or with the intention of internationalising, the goal with this workshop was to demonstrate, in a practical way, how it is possible to standardise good project management practices, and to understand how projects with a high degree of uncertainty can be managed better.
The tool SCRAIM –an integrated online service for managing projects based on adaptable processes – was used during the practical exercises.
A total of 24 participants from 13 different entities were present at the workshop, including CEOs, project managers, scrum masters, researchers and software developers.
Due to the growing interest in this theme, INESC TEC is planning another workshop for the first trimester of this year, in collaboration with Strongstep, as part of the activities of the Enterprise Europe Network.

INESC TEC, January 2016