Document Actions
INESC TEC researcher joins Association of European Science and Technology Transfer Professionals
Catarina Maia, head of INESC TEC's Technology Licensing Office (SAL) and researcher at the Centre for Innovation, Technology and Entrepreneurship (CITE), was invited to join the Professional Development Committee of the Association of European Science and Technology Transfer Professionals, or ASTP-Proton, the European association of professionals working in the field of knowledge transfer between universities and industry.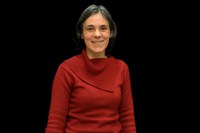 Catarina Maia
With more than 650 members of 41 nationalities, ASTP-Proton is a nonprofit organisation that aims to promote and professionalise the transfer of knowledge, increasing the impact of academic research in society and the economy. Specifically, the Professional Development Committee is responsible for offering training, master classes and other activities specifically designed for technology transfer professionals. Catarina Maia thus joins a restricted group which features nine members of different nationalities.
INESC TEC is member of ASTP-Proton since 2014, and this invitation was recognition of the institution's contribution to the transfer of knowledge, particularly in the areas of information technology, communication and electronics.

The researcher mentioned in this news piece is associated with INESC TEC.
INESC TEC, May 2016