Document Actions
AUTO-GRATION (news article)
Assisting SMEs to participate in global digital supply chains in the automotive sector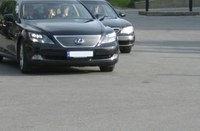 INESC TEC develops project for automotive sector
The Centre for Enterprise Systems Engineering (CESE) participated in a project consortium where the goal was to harmonise electronic businesses in the automotive sector – the AUTO-GRATION.
Project AUTO-GRATION was the response to a request to provide services to the European Commission's DG Enterprise and Industry, and the goal was to help SMEs participate in global digital supply chains in the automotive sector. The idea was to create an environment that favours ICTs and eBusiness technologies in SMEs.
In this sense, and in order to achieve the main goals, the project analysed the current state of eBusiness technology adoption in the sector and to develop models to exchange data and processes in order to guarantee cross-border interoperability as part of the European project. At the same time, the goal was to demonstrate the viability of the architectures developed by implementing pilots. The purpose was to disseminate the benefits and opportunities resulting from the digital supply chains, so as to promote a generalised adoption of the proposed standards.
César Toscano was the representative of CESE in project AUTO-GRATION. The consortium included, among others, ODETTE International, the European Association of Automotive Suppliers (CLEPA), the European Council for Motor Trades and Repairers (CECRA), BOOST, and INOVA+ S.A - Innovation Management.
Project website: AUTO-GRATION