Document Actions
MOFSS
Make to Order Fast and Smart Scheduler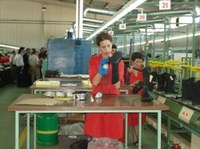 Adopting flexible and agile manufacturing processes is key for enhancing the competitiveness of European SMEs.
New technologies are being developed for improving the efficiency, adaptability and sustainability of the new production systems, capable of producing a large variety of sophisticated products in shorter cycle times and small order sizes at affordable prices. In this context, the MOFSS project aims at developing smart and fast scheduling technologies that may help planners and decision-makers design and manage flexible make-to-order production systems.
The main result of the project will be a prototype of a functional software product for planning and scheduling operations in make-to-order production processes particularly for the metalworking industry, which can be economically exploited in a short-medium term by the consortium. A well-balanced consortium has been built involving two SMEs and a Private Research Centre from Spain and Portugal.

Partners:
INESC TEC
JPM
Intermark
Prodintec