Document Actions
E2WEB
Innovation Dynamics in Aeronautics and Embraer in Évora: Towards a Distributed Platform for Entrepreneurial Initiatives, New Employment and Skills Development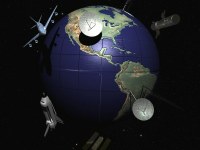 This project looks at the increasing complexity and uncertainty of technological advances and related value chains and business configurations in aeronautics. It is motivated by the installation of two new Embraer plants in Évora, Portugal, with the ultimate goal of securing their role as centers of excellence in aeronautics. Evora's plants are a singular case as they are fully Embraer, and also first tier suppliers of Embraer Brazil. This requires the full integration of their activities within the needs of Embraer Brazil, while keeping a competitive edge. ICT systems are essential to anticipating problems and opportunities in the supply chain management at four levels:
identification, capacitation and qualification of new technology based suppliers;
monitoring suppliers performance identifying risky situations or opportunities;
identification of backup suppliers and
assessing network effects on the supply chain. The emphasis will be on value-added platforms to facilitate the necessary technological advances including opportunities for new employment and skills development and their impact on regional development.
Website: E2WEB