Document Actions
INESC TEC is partner in international 3G energy management platform
Managing energy in a global perspective, including different variables such as levels, facilities, geographies, tariffs or technologies, is the challenge INESC TEC's Centre for Enterprise Systems Engineering (CESE) proposes to address in project 3Genergy.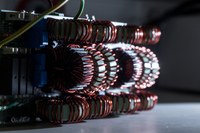 3Genergy aims to create a highly innovative global energy efficiency management platform, targeting medium and large facilities in both the industry and service sectors. It is hoped that this will be the first truly third generation platform at an international level.
This platform will be built on a number of aspects that characterise the development of energy management systems, such as the use of energy resources to control the carbon footprint or the monitoring of consumption and equipment in real time in an intelligent way. Another characteristic to be taken into account in this work is the assessment of consumption of devices in relation to the potential impact of investments in energy efficiency.
In the end, the platform should be able to integrate with other energy management systems (maintenance, techniques, quality, environment, production), being accessible through different environments (web, cloud, mobile).
INESC TEC, SISTAVAC, Dreamo - Balanced Work Systems and Sustentepopeia are the partners involved in this project, which began in September 2016 and is expected to be concluded in August 2018.
INESC TEC, December 2016