Document Actions
DBS - Deep Brain Stimulation
Precise anatomic location the DBS electrodes position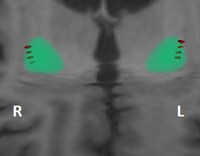 DBS is an effective surgical treatment for some of the drug-refractory movement disorders. In order to improve the clinical interpretation of patients symptoms, a system was developed to precisely locate the anatomic electrodes position.
The system allows:
To obtain the 3D location of DBS's electrodes
Segmentation of deep brain structures
Anatomic position of DBS electrodes in the individual space (red)
and GPi deep brain structure (green) on a 3D view.
People/Institution:
João P. Cunha (INESC TEC), N. M. da Silva (INESC TEC) , Verena E. Rozanski (LMU), Sérgio. M. Tafula (INESC TEC)
Partners:
Funding:
Main Publications:
Nádia Moreira da Silva, Verena E. Rozanski, Sérgio Miguel Neves and João Paulo Cunha. Precise 3D deep brain stimulation electrode location based on multimodal neuroimage fusion. In In 1st Proceedings of the International Conference on Physiological Computing Systems, pages 48–54, 2014