Document Actions
SenseMyHeart
A cloud-based interface (API) to do heart and stress analysis through ECG data.
SenseMyHeart is a cloud-based service that aims at providing a programmatic interface (API) in heart and stress analysis through the study of electrocardiogram (ECG) data. It is directed to developers, research and crowd-sourcing infrastructures that work towards creating desktop or mobile applications linked to wearable technology and continuous health monitoring (e.g. VitalJacket).
Thus, SenseMyHeart tries to promote interoperability between operating systems and machines, offering the client a variety of operations and scenarios of application, ranging from long-term ECG analysis on the cloud, to mobile collaborative short-term stress analysis.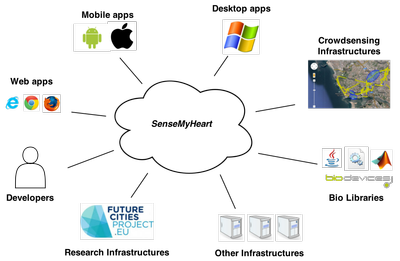 SenseMyHeart Architecture
People/Institution:
João P. Cunha (INESC TEC), Pedro Pinto da Silva (FEUP)
Partners:
Funding: