Document Actions
HuMeRaL
Human Motor Re(Learning): The Use of Sensor Information Fusion.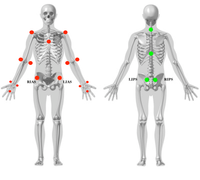 This project aims to identify and to characterize the main motor behavioural parameters and factors of upper-limb motor skills performed by humans during daily-life activities. The main goals of the project are: (1) characterization of motor skills of the upper limbs; (2) identification of tasks and environmental features causative of changes (3) characterization of the upper limbs' functional tasks; (4) parametrization of the healthy and pathological pattern of human movement; (5) definition of perceptive and motor variables that influence motor (re) learning; (6) study of the influence of multimodal feedback in motor control; (7) procedure's validation study with healthy participants and stroke patients.

Duration: 24 months (started 01-06-2013)
Images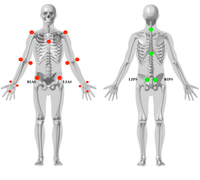 Placement of reflective markers for kinematic assessment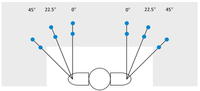 Schematic representation of targets' placement.
People / Institutions
Sandra Mouta, Miguel V. Correia, Carolina Vila-Chã, Dominic Noy, Ana Sofia Silva, Cláudia Silva, António Salazar, Carla Borges, Rosa Mariana Silva, Pedro Fonseca, João Ferreira, Ana Rita Pinheiro
Participating Institutions: INESC Porto
Funding
Bial Grant 77/12: Human motor re-learning – the use of sensor information fusion
Main Publications
Aragão, B., Fontes, L., Mouta, S., Soares, E., Castelo-Branco, M., Correia, M.V., & Santos, J. (submitted). Visualization of translational biological motion from real motion capture. Behavioral Research Methods
Silva CC, Mendonça C, Mouta S, Silva R, Campos JC, et al. (2013) Depth Cues and Perceived Audiovisual Synchrony of Biological Motion. PLoS ONE 8(11): e80096. doi: 10.1371/journal.pone.0080096