Document Actions
INESC TEC researchers output highlighted in Japan
Pedro Costa, CMU-Portugal, and Aurélio Campilho, coordinator of the INESC TEC's Centre for Biomedical Engineering Research (C-BER), presented a scientific paper at the International Conference on Image Analysis Applications (IAPR MVA 2017), and it was highlighted with some special references.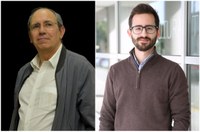 Aurélio Campilho and Pedro Costa
The paper entitled "Convolutional bag of words for diabetic retinopathy detection from eye fundus images" was picked for oral presentation, which only happened in about 18% of all papers submitted. Besides, it was also one of the seven reports chosen for publication in the IPSJ Transactions on Computer Vision and Applications journal, a publication dedicated to highlight quality research papers, namely in the areas of computational vision and its applications.
This paper relates to the project SCREEN-DR, financed by the Foundation for Science and Technology, under the supervision of the programme Carnegie Mellon Portugal, which purpose is to develop a screening platform for diabetic retinopathy (RD). Diabetes is a worldwide fast growing disease and one of its most common complications is the diabetic retinopathy, the main cause of blindness in the industrialised world. Despite estimating that about 50% of the type 2 diabetics, and 70% of the type 1, will develop this problem, it can be prevented with early diagnosis and treatment.
SCREEN-DR aims to develop an automatic and distributed platform to screen RD, based on information and communication technologies, allowing a quick answer from the care takers. For that, there are three main objectives: image quality assessment, detection of normal images and diabetic retinopathy grading. The paper presented falls into the detection of normal images.
Apart from INESC TEC, other institutions participate in the project, such as Carnegie Mellon University, University of Aveiro, North Regional Health Authority and BMD Software, with the collaboration of São João Hospital and First Medical Solutions.
The conference happened in Japan, between May 8 and 9.
The researchers mentioned in this news piece are associated with INESC TEC and UP-FEUP.