Document Actions
INESC TEC monitors health of first responders
"VR2Market: Towards a Mobile Wearable Health Surveillance Monitoring Product for First Response and other Hazardous Professions" is the name of the Entrepreneurial Research Initiative (ERI) led by João Paulo Cunha, coordinator of INESC TEC's Centre for Biomedical Engineering Research (C-BER), together with Carnegie Mellon University (CMU). INESC TEC's Centre for Enterprise Systems Engineering (CESE) and the Centre for Innovation, Technology and Entrepreneurship (CITE)* are also involved in the project, as well as other institutions and companies.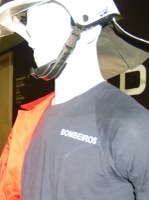 This initiative follows another project coordinated by João Paulo Cunha, the Vital Responder, which monitors the vital signs of first responders. The result of this project, developed between 2009 and 2012 as part of the Carnegie Mellon Portugal (CMU Portugal) Program, was a considerable number of devices (such as a new version of the Vital Jacket®), as well as methodologies and know-how, which will now be consolidated in the VR2Market.
Therefore, the idea is to improve the scalability of existing technologies and adapt them to other types of demands and professions. According to the leaders of the ERI, João Paulo Cunha and Fernando De la Torre (researcher at CMU), "the VR2Market will consolidate a long and successful line of research, and help bring to the market new findings that are the result of five years of joint international research."
Other goals include improving the analysis of the data and psychological and physiological indicators, as well as converting results into a platform in the cloud that can be adapted to different monitoring contexts in various professions. Starting on 15 July and with a duration of 48 months, the VR2Market will be receiving about one million Euros worth of funding.
The consortium of the VR2Market also includes the Institute of Telecommunications (IT), the University of Aveiro (UA), the initiative "Future Cities" of the University of Porto, the Gaia Hospital and the companies Biodevices and Petratex. Partners from the other side of the Atlantic include CMU's Robotics Institute and consultants from the Center for Disease Control – National Institute for Occupational Safety and Prevention and the University of Pittsburgh Medical Center.
The VR2Market was one of six selected as part of the 1st Call for Entrepreneurial Research Initiatives (ERIs) launched by the Carnegie Mellon Portugal (CMU Portugal) Program, funded by the Portuguese Foundation for Science and Technology.
*former Manufacturing Systems Engineering Unit (UESP) and Innovation and Technology Transfer Unit (UITT), respectively.
The INESC TEC researchers mentioned in this article are associated with the following partner institutions: FEUP